Real—or—Representative
Experience is a Great Teacher and We Employ a Suite of Options for Hands-on Impact.
Our direct experiences extend along a continuum of possibilities–ranging from engagement in real work, to work models, to simulations, to dynamic metaphors, to learning journeys. Each direct experience incorporates the degree of immersion or context that is most beneficial to, and supportive of, the overall initiative.
Here is a graphical overview of the Continuum of Options: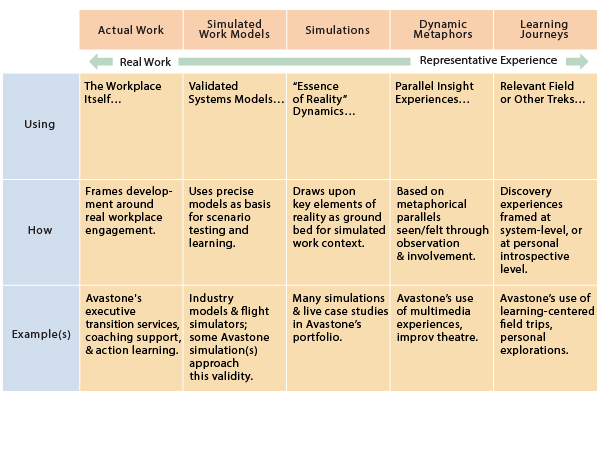 Targeted to Your Requirements, People, and Realities
Which direct experience is right for you?
That depends on the targeted focus of development, the intended impact, timeline, group size and most relevant activities in relation to the development cycle as a whole. Each option delivers specific benefits, has unique characteristics, and incorporates a variety of exciting and creative techniques. Avastone can help you decide which direct experience is best for your specific situation.
Most complete range.