Step Toward Completeness
From Delivering a Content Foundation to Facilitating Customized Process Approaches, Avastone Serves as a Ready Partner for Extraordinary Results
Effective executive development is a process, shaped by strategic intent, grounded in clear realities, and translated into meaningful elements. We call this powerful cycle Development in Action, a sophisticated process of deployment that brings together the right elements at the right time with the right degree of support to create impact and movement. No one piece stands alone as the key to success; all are additive to the overall cycle. We tie this together through process direction and facilitation.
With a sound framework in place that has set the direction and content of the development process, each executive engages in the movement-forward cycle of exploration and discovery. Along the route, Avastone Consulting incorporates a mix of internal and external resources, and draws upon education, sophisticated simulations, learning journeys, action learning, coaching, webinars, and other elements as support.
Here is a graphical overview of Development in Action: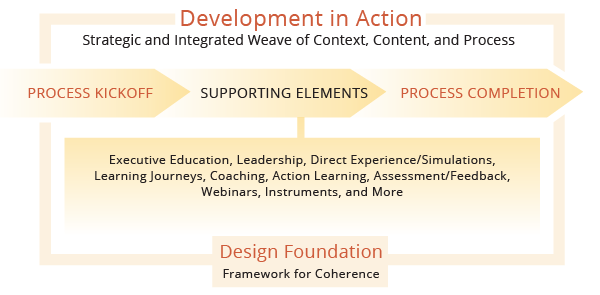 Here to there. Not anywhere.