Solid Understanding of Realities at Play
Avastone Understands the Value of Clarity – Clarity of Design, Direction, Results
Avastone Consulting's proven success in executive and leadership development leverages a highly customizable, coherent design methodology that drives concrete action, impact, and change within and among individuals and the organization.
Making Sense of Complexity and Choices
Too often executive and leadership development programs are designed by advocates of a particular concept of leadership, employ a singular learning process or technology, or showcase the same few experts. These "one-size-fits-all" models don't provide for the nuances of each organization, preclude a comprehensive and objective approach, and often fall short on results.
Avastone understands that organizations are complex, each with its own unique context and human system. Thus, higher levels of customization are required to reflect realities at play.
Impactful Design Approach
Avastone utilizes a Framework for Coherence–the direct result of a multi-year doctoral dissertation project aimed at addressing the challenges of executive development and leadership. Delivered by our seasoned consultants, the Framework facilitates the design of your executive and leadership development processes.
This Framework structures a design dialogue that fully involves the client, in order to develop a process appropriate to the unique situation and realities of the organization. It in essence is the blueprint for the next phase, Development in Action, where the executive cadre then goes through a process to achieve desired results–ultimately adding strength to the organization.
Key research findings in support of the Framework were derived from in-depth studies of seven leading executive development programs sponsored by:
Harvard University
The World Bank
BellSouth
Center for Creative Leadership
Naval Aviation Administration
U.S. Army War College
Federal Executive Institute
Here is a graphical overview of the process we use to create a customized impact: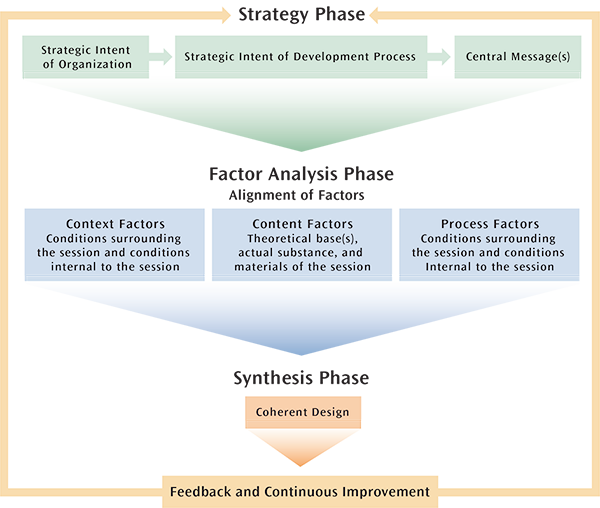 Framing challenges, defining solutions.